In the company's press release, CEO Darren Woods highlighted some of Exxon's largest and most lucrative projects that he thinks will drive significant growth well into the next decade, Mozambique Mamba LNG project among them.
Key projects in Guyana, the U.S. Permian Basin, Brazil, Mozambique and Papua New Guinea are positioning us well to meet the objectives we outlined in our long-term earnings growth plans. The high quality of these resources, combined with our strengths in project execution and innovation, will generate strong value over time. Second quarter results were primarily impacted by significant scheduled maintenance undertaken to support operational integrity. In addition, while we were pleased with the return of full production following the [Papua New Guinea] earthquake, extended recoveries from first quarter operational incidents in the Downstream were disappointing. However, good progress was made during the second quarter in fully recovering from these incidents.
At Exxon's analyst meeting earlier this year, Woods and his team noted that these projects should triple upstream net income between now and 2025 at $60 a barrel.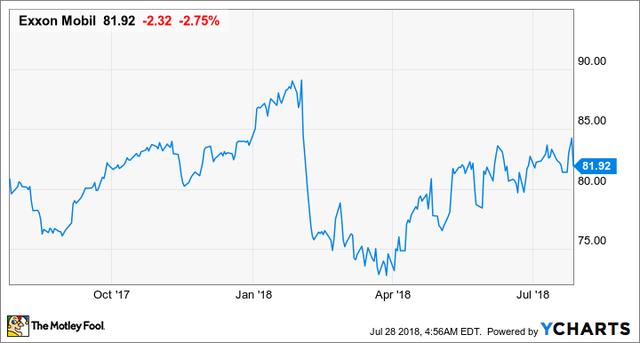 XOM data by YCharts.
New quarter, same story
Aside from the additional headache of maintenance and downtime, this quarter feels an awful lot like the incredibly frustrating prior one. Right at a time when oil prices are rising, companies that were very good at cost control should be pulling in windfall profits.
ExxonMobil is one of those very cost-conscious companies, but the declines in production — either deliberate or because of project timing — have held the business in check.
From a long-term investor's perspective, Exxon's value comes in the small handful of incredibly lucrative projects slated to go live between 2021 and 2025. Guyana, Mozambique LNG, and offshore Brazil are all high-return projects that look better and better by the day. Throw in accelerating production growth from U.S. shale and some sizable downstream investments, and there is a compelling case for Exxon's shares three to five years from now. The trade-off for investors is having to endure disappointing earnings results like these for the next few quarters while these projects materialize.